When Salesforce was born 21 years ago, co-founder Marc Benioff had a vision of profitability and philanthropy as core pillars of the company's DNA, two ideas he believed didn't have to be mutually exclusive. That took shape as the 1-1-1 model, which dedicated 1% of the company's equity, 1% of its product, and 1% of employees' time back to the community.
In setting up that model, Salesforce also co-founded Pledge 1%, a movement to create a new normal whereby social impact is integrated into the core DNA of every company. Pledge 1% inspires, educates, and empowers all entrepreneurs and companies to leverage their assets to be a force for good. And the success has been phenomenal: Since 2014, more than 10,000 companies in over 100 countries have joined the Pledge 1% movement and live their values in unique ways, generating more than $1 billion of value in volunteer hours, product, and funding. Some have established highly organized employee-run community outreach programs and product donation initiatives. Others award grants to their most engaged employees or even set up social impact funds.
But few of those case studies have been as unique as that of PagerDuty. Since joining the Pledge 1% movement in 2017, the 10-year-old digital-operations management company has gone a step further. Last October, it established the PagerDuty.org Fund to connect remote communities to essential medical care ­– supporting organizations that bring medical care to everyone who needs it, in the hardest to reach places, in the moments they need it most, while also striving for vibrant and equitable communities.
"Each year millions of individuals die from preventable diseases and health complications because they lack access to healthcare in their community," says PagerDuty VP of Global Social Impact & Philanthropy Olivia Khalili. "By orchestrating action in critical moments to save lives, PagerDuty can tackle a pivotal piece of the healthcare, from remote vaccine distribution to life-saving emergency care to early warning signs of outbreaks."
Operationally, that manifests by PagerDuty donating resources, customizing its digital-operations management platform, and partnering with two tech-focused nonprofits – Medic Mobile and VillageReach ­– to help deliver critical last-mile medical aid like vaccinations and outbreak treatment to remote communities in Africa and Southern and Southeast Asia. It's still in the early days, but the company is optimistic ­– ready to innovate in the field and learn from global health technology experts and strategic investment and partnership development, and by doing so, serve as a role model for other Pledge 1% member companies.
Setting up social impact funds for philanthropy isn't unique to companies who take the pledge, but organizing at this level and devoting to a singular cause is a particularly impactful example of the power of the 1-1-1 model. And it's the product of a journey PagerDuty has been on for the last several years as it has aligned its priorities around the idea of business being a platform for change.
"The work of our platform has always been around the end user and improving the lives of on-call engineers, so we have an orientation to how we empathize and create positive impact in lives," says Khalili. "Pledge 1% was a natural extension from 'How are we creating a positive improvement in the life of an on-call engineer?' to 'How are we doing that in our community and with our technology?'"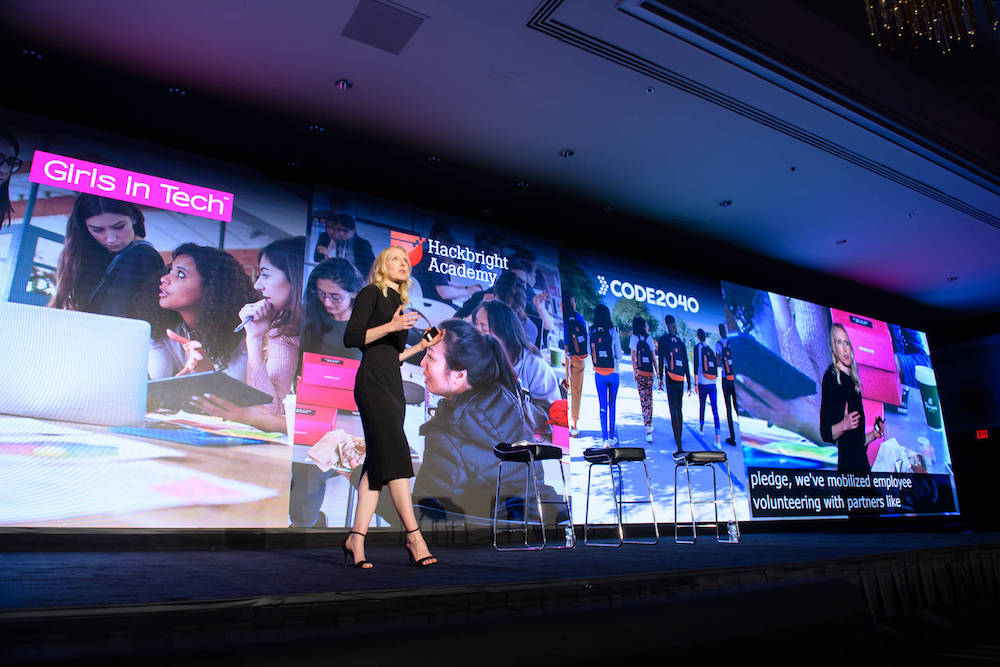 Khalili speaks onstage at a conference.
PagerDuty has been in the news since it first surfaced in 2009. Its product was unique: a cloud-based digital-operations management platform that helped companies address DevOps issues in real time. Originally founded in Toronto, PagerDuty came under the wing of the famed Silicon Valley incubator Y Combinator, which has helped launch well-known tech brands such as Airbnb, Instacart, Dropbox, and thousands more. The startup darling collected round after round of funding from the investor community, counted nearly half of the Fortune 500 as customers, and was on its way to following the path of other successful Y Combinator startups.
But the true institutional change came in summer of 2016 when PagerDuty named Jennifer Tejada as its CEO. The veteran tech executive had a reputation for spearheading companies with complex products and opaque missions and infusing them with a dose of humanity: "What is this product and what does it actually do for customers?" Tejada did that effectively at PagerDuty, helping to expand the company's client roster and simplifying its messaging. But she also wanted the firm to elevate its values. In 2017, she approached the PagerDuty board with the idea of writing the 1-1-1 model into the company's financial documentation. They emphatically agreed with her: Giving back was a moral imperative and should be literally inscribed into the company's values.
A year later, Tejada hired Khalili as the company's impact lead to spearhead efforts to build out its Pledge 1% program. Khalili had experience in enacting social good programs while advising large brands on social impact, and even spent three years setting up a similar initiative while in-house at Yahoo. At PagerDuty, she went pillar by pillar of the Pledge 1% framework and 1-1-1 model, first by setting up a product donation and licensing model for nonprofits, then by building powerful programming to empower employees to effectively give back through their allotted 20 hours of annual paid volunteer time. She then turned her focus to the equity side of the triangle.
"I looked first at how we would create an integrated strategy," Khalili recalls. "I very much appreciate the clarity of the 1-1-1 model and the framework Pledge 1% provides to truly align stakeholders internally and to be able to tell a clear story externally. But the question I always return to is, how do we integrate impact across the business and bring these pillars to life in a way that is as embedded in and aligned with our core business as possible?"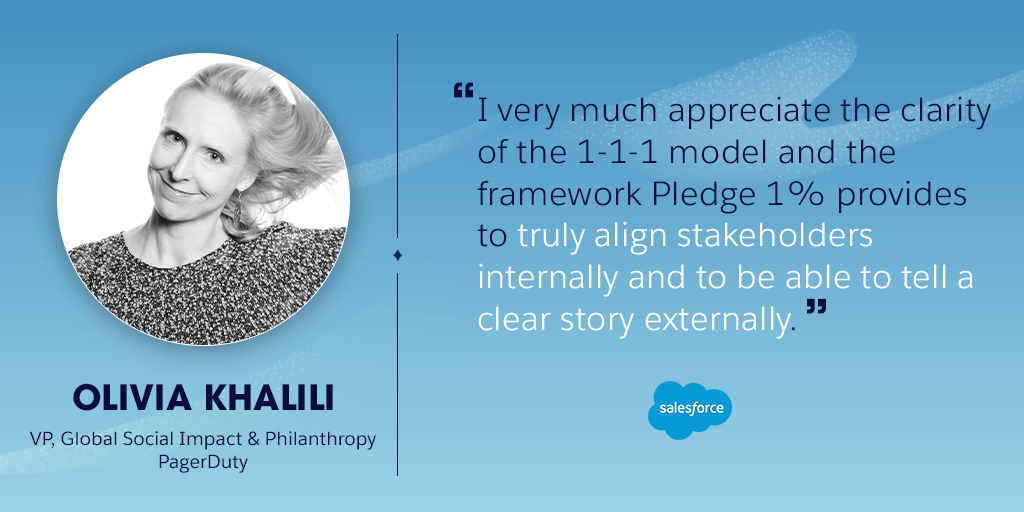 When she joined the company, there was no obvious connection to a singular issue to which PagerDuty could dedicate a whole fund, so Khalili rolled up her sleeves and did a significant amount of discovery work – internal interviews, external reviews, and research. Her findings led her to two final potential focus areas, which she reviewed with Tejada before they ultimately decided on time-critical global health.
"We're a global company and a global platform, so it was important for us to tackle an issue that has global resonance," says Khalili. "We also wanted to leverage our technology. It was important that technology was innately part of the solution to the problem we are trying to solve. The potential for technology to accelerate outcomes is tremendous. The challenge is how to do so effectively, and responsibly."
More than that, Khalili and Tejada wanted to identify a cause for which PagerDuty's core competency of technology and thought leadership could directly make an impact. The idea of time-sensitive global health actually came in part through learning about PagerDuty customers who were using the technology to conquer time-sensitive health challenges at scale.
One of those customers was SightLife, a nonprofit that facilitates 700 cornea transplants globally each month. The eye bank utilized PagerDuty technology to help unify six internal teams to execute on the complex process of preserving and transporting cornea tissue during a critical 48-hour window in which the tissue is viable. Although a specific use case, and atypical of how most PagerDuty customers engage with their platform, that offered a model for the impact PagerDuty technology could drive.
"By zeroing in on time-critical global health as an issue area, we see an opportunity to powerfully impact world organizations through our technology," says Khalili.
Those on the receiving end of the fund's mission aren't the only ones to benefit from PagerDuty's impact program. Khalili says the stakeholder group she hears from most are employees: "If I had to sum up the feedback I receive pretty consistently, it's 'I am so excited that I get to work for a company that cares about making a positive impact in the world.'"
Not only does the Pledge 1% movement impact how employees perceive the company, but also how they engage in learning new skills and volunteering with an organization. Khalili recounts her favorite quote from a colleague in the engineering organization who said, "I would go to volunteer thinking, 'I'm here to help this organization.' I always come back thinking, 'Wow, I'm the one who benefited. I've learned so much.'"
According to Pledge 1% Chief Executive and President Amy Lesnick, PagerDuty's model is spot on: Providing employees with baked-in volunteer time and experiences in which they're empowered to leverage their unique skill sets is the secret sauce to engaging them around the 1-1-1 model.
"If you're not thinking about employee time, you're limiting the creativity and that core culture-building that happens when employees get excited and engaged around giving back," she says.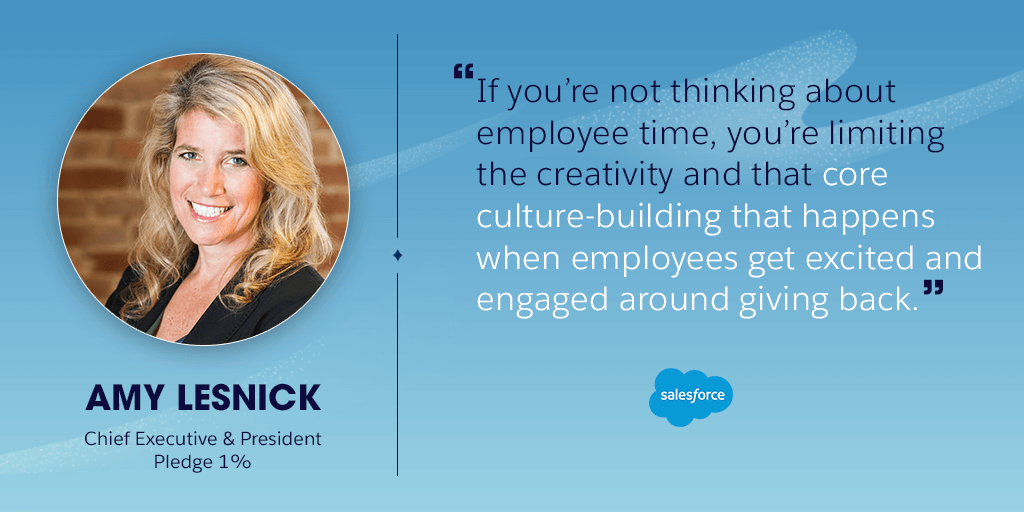 In April 2019, shares of PagerDuty finally debuted on the New York Stock Exchange, making it one of a handful of publicly traded companies with the Pledge 1% Equity Commitment written directly into their financials. PagerDuty joins late-stage companies like Slack, Docusign, Sendgrid, Zuora, Pluralsight, Twilio, Upwork, and Okta, which together have ignited more than $250 million in new philanthropy as a result of their IPOs. In terms of leading the way, PagerDuty is still very much the "unicorn" many have termed it since its early days. Khalili continues to play an integral role in the Pledge 1% community, inspiring and empowering the next generation of leaders to join the 1% movement.
"As a recent IPO, PagerDuty is definitely a role model for other companies," says Lesnick. "But I also think it's amazing to have a rock-star female CEO in Jennifer Tejada who inspires others, and one who has so much conviction around the idea that profit and purpose aren't a trade-off, but something that's important to be a successful company. And that's pretty awesome."
No one agrees more than Salesforce Chief Impact Officer Suzanne DiBianca, who is also a founding board member of Pledge 1%.
"What PagerDuty has done is great," she says. "Our ultimate aim is that every company builds this sort of action into its term sheets and articles of incorporation. I hope all of them set aside 1% for the community, and that it just becomes part of how they operate. I'd love to see 100,000 companies taking part in the movement."